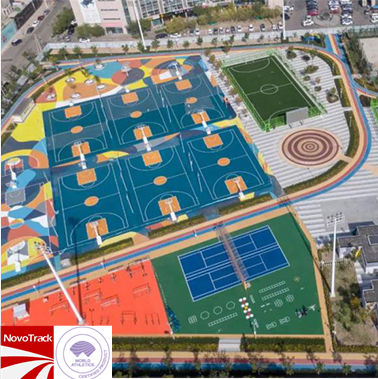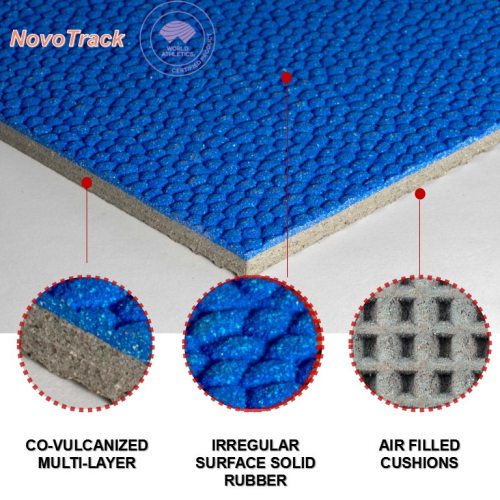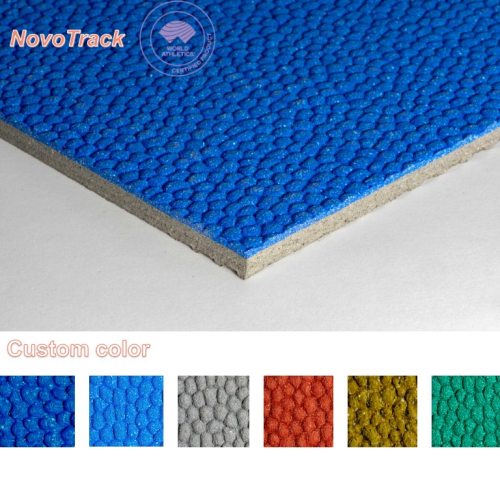 Safety and eco-friendly sport court surface with best cost for you
Item specifics
Color

Blue,green,yellow,red,grey
Type

Training track and field
Material

Prefabricated synthetic surfaces
Brand

NovoTrack
Thickness

8mm
Description
Blue wear resistant top layer,grey elastic bottom layer. Embossing the molding in our factory for top and bottom layer. Suitable for basketball, tennis ball courts, etc.
Thickness could be made from 8-20mm, width from 0.9m-1.27m, length is 15.2-15.4m
Professional sport court surface
It is generally used in large-scale international and domestic professional competition.This types of running track surfaces is made according to the IAAF standard regulations.Our products were tested by the German MAP lab officially appointed by the World Athletics and approved that all of our specifications are in conformity with the standards published by World Athletics.
NovoTrack is the cooperating partner of the Chinese Athletic Association to be the only official supplier of the prefabricated athletic track surface from 2014-2017.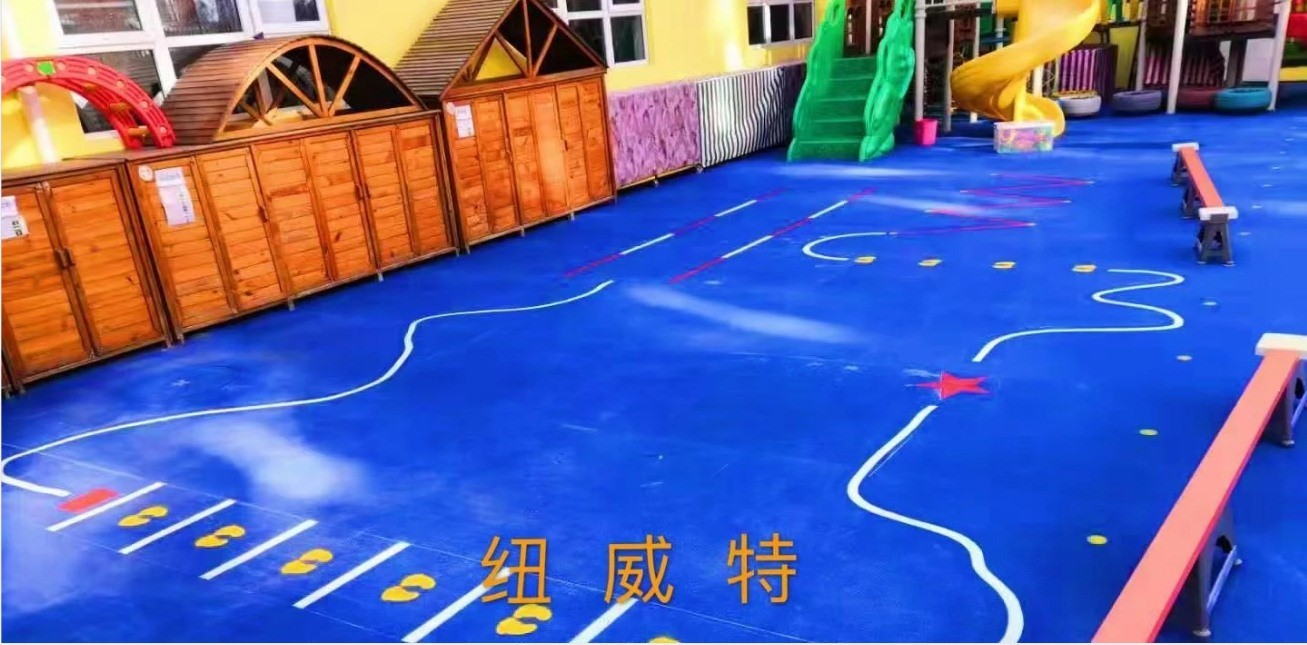 NovoTrack has a professional trained team for installation.We provide the most suitable project according to the requirements of every individual customer and field.NovoTrack believe that the perfect laying methods would guarantee proper usage of each track field or court.We could make the functions of our products to their utmost because of the super equipments,scientific methods,mature technique together with adhesive specially researched and developed by ourselves.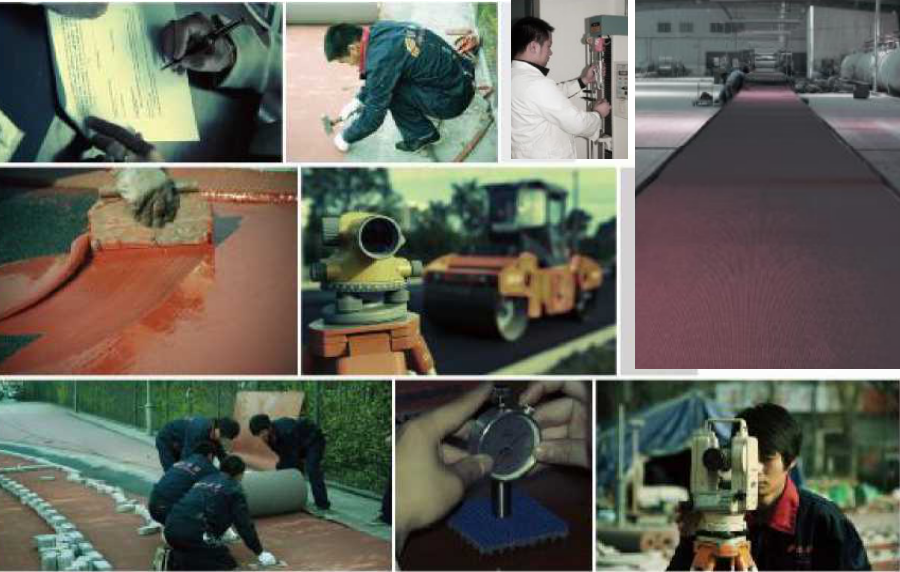 Strong deformation resilience

The synthetic running track surface is with a strong elastic layer and buffer layer, it can absorb strong impact.

Long service life

Compared with polyurethane and similar products, it has extraordinary anti-aging, anti-ultraviolet abilities, long-lasting and stable color, no color difference, and a service life of more than 10 years.

Wide range of applications
It is generally applicable to sports venues of various schools and professional competitions.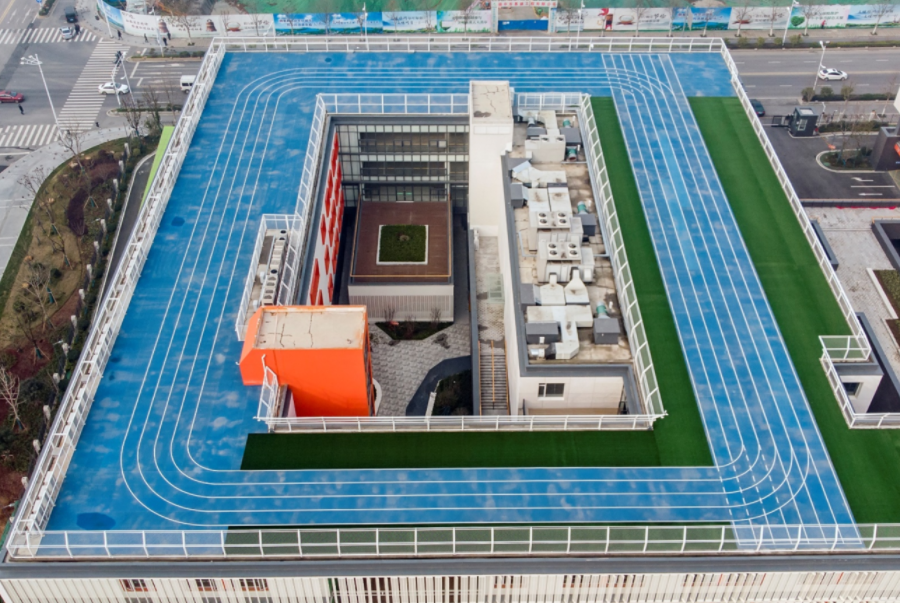 Safety & Eco-friendly
The unique surface undulation and concave bottom air cushion design provide a suitable shock absorption and energy feedback system, which can effectively improve sports performance while ensuring sports safety.
The flooring does not contain any toxic heavy metals and harmful chemical substances, and its physical and chemical properties are in full compliance with national standards and environmental protection requirements. This is indeed for the physical and mental health of sports athletes. The rubber surface layer can still be recycled after its service life expires. Save land resources.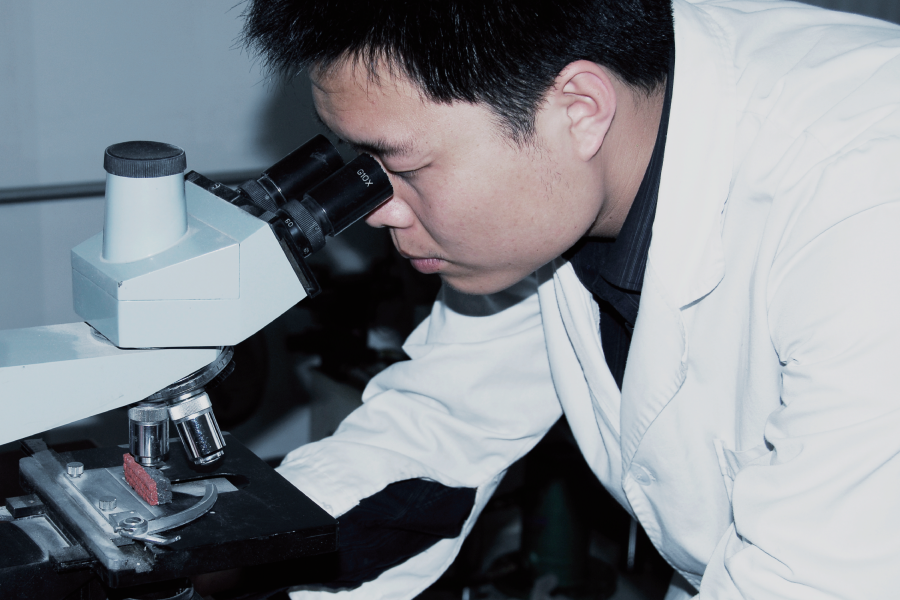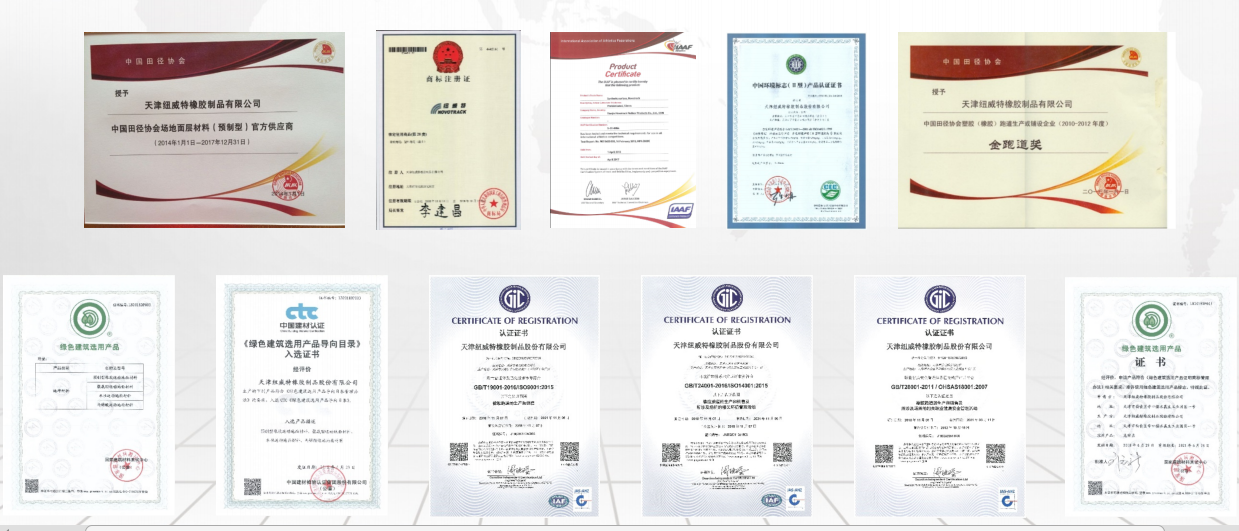 Tianjin NovoTrack Rubber products Co.,Ltd. was set up in 2004 and total investment is 20M RMB,manufacturing especially various kind sports floorings.We have installed millions of square meters of our track surfaces at many city sports centers,university campus,high schools and so on.
We are qualified with ISO-9001,ISO14000 and ISO18000.
NovoTrack-The supplier of the 11th,12th,13th and 14th China National Games.
Our prefabricated rubber track surface is certifacted by World Athletics.